Worship unites, prepares delegates for the work of Assembly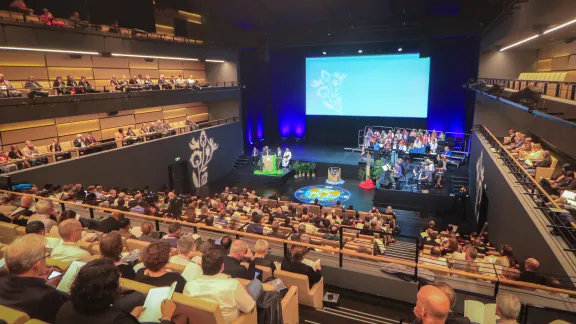 Inspiring worship provides for special and unique experience
Using dance, music, light, shadows and artistic resources, worship at the Thirteenth Assembly of The Lutheran World Federation (LWF) brings to life the Assembly theme "One Body, One Spirit, One Hope." For the nearly 1,000 participants gathering in Kraków, Poland, worship has been a living experience, inspiring and lighting the flame for the daily journey.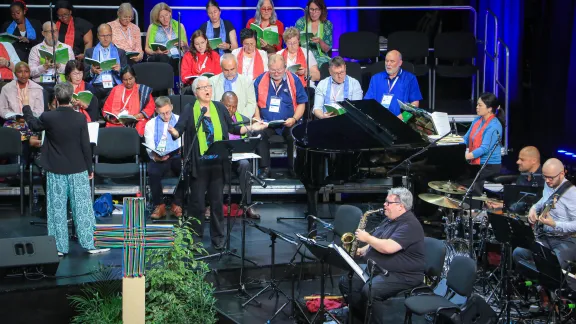 "We try to use languages and sounds from around the world. Fifty different leaders are speaking and leading the reflections," Tom Witt, LWF Assembly Worship Coordinator, explained. "Apart from that, we have integrated a choir of about 30 to 40 people. There are many people involved." The venue is the ICE Kraków Congress Centre. "The fact that we are not in a church building but in an auditorium, sometimes frees people to have a different experience," he added.
Witt shared how each worship service is designed to be a special and unique experience. While some of the worship may be different than what participants experience in their local contexts, "hopefully in this setting when so many different things are going on, they will be more open…" he said. "Worship is an invitation to come to experience something new."
Worship has provided for many vibrant moments of the Assembly, preparing and nourishing attendees for the tasks of the day. "The worship centers us on the gospel and Christ and coming together to do the work we are doing and end the day, grounded in our faith," said Rev. Dr Kayko Driedger Hesslein, Evangelical Lutheran Church in Canada. "Our faith gave us the reason for what we are doing, we are not an NGO or a humanitarian organization, even our work is similar, we are people of faith and a community in Christ, so it is useful to remember what the fundamentals are, the things that move us".
"The spaces for worship and praise are an opportunity to unite in the same voice in praise and prayer to God, it helps us prepare before the sessions [and] provides us with unity [for] each day's session," said Bishop Atahualpa Hernandez Miranda, Evangelical Lutheran Church of Colombia. "The work of the Assembly, in terms of being a body, a spirit and a hope is a gift, but also a responsibility. In that sense in the worship, we receive that gift of communion and also it drives and encourages us to carry out the task we have."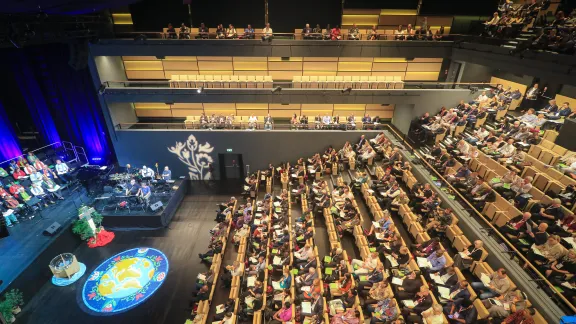 Katie Evans, a student from the United Lutheran Seminary in the United States of America, agreed. "We appreciate the time to turn to our neighbor and be in community in small groups," she said. "Those small connections of meeting someone and getting in conversation with them, the opportunity to hear music in different languages and to be in communion with the music is really powerful."
Despite coming from different churches and different countries, worship "makes us realize the importance of seeing ourselves as a Christian family," said Katia María Cortez Cristales from The Nicaraguan Lutheran Church of Faith and Hope. "It makes us feel like one in Christ. During the day we will reflect on this Word in our mind and it will go through everything we are thinking and we know that this will influence our work."
"Worship prepares our minds […] puts us in God's order, so we can start the day with the word of God," summed up Bishop Johnes Kutuk Meliyio of the Kenya Evangelical Lutheran Church.