Vibrant song, words of hope mark Assembly opening worship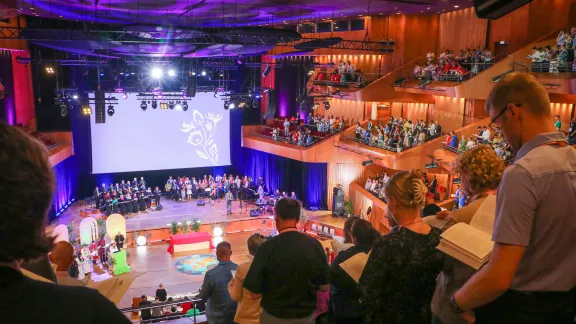 Filling the auditorium with joyful voices, the Thirteenth Assembly of The Lutheran World Federation (LWF) began with a service of Holy Communion on 13 September 2023 in Kraków, Poland at the ICE Conference Centre. A combined choir from local Lutheran parishes sang hymns originating in various continents, uniting 150 members churches from 99 countries in music and worship.
Each region was invited to bring forward a gift of bread and salt throughout the service, traditional symbols of hospitality in the Polish culture.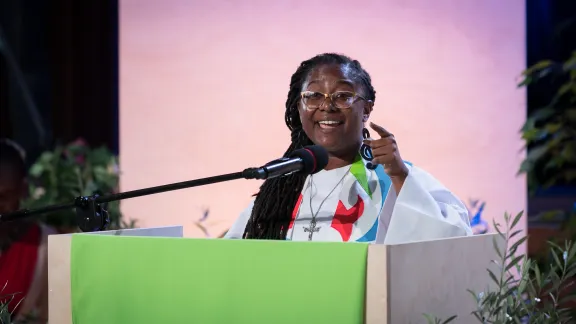 Rev. Danielle Dokman, Evangelical Lutheran Church in Suriname, preached on Matthew 2:1-12, the text used to lift up the Assembly theme – One Body, One Spirit, One Hope. "We have gathered here from various continents to experience the enduring and abiding love of God," she said. Referring to the arrival of the three wise men who went looking for the baby Jesus, she urged Assembly participants to "make ripples" and be "the communion we have always talked about… bringing to the communion our gifts like the wise men did, as well as our talents and even parts that are fragmented." 
Following the service, Dokman reflected on how "humbled and privileged" she felt to be asked to give the sermon at opening worship. "I had been a member of the Assembly before and it is wonderful to be back with the whole group of familiar people and to be able to give this sermon at the beginning of our time together," she said.  
"The meeting between everyone was very beautiful, from the music to the prayers, the readings, each work together," she continued. "I think everything was connected to really lift our spirit, even the communion, each work together like One Body, One Spirit and One Hope," noting that opening worship is a "preparation for what is to come," and with the challenges we are facing in the world today, "we need to be more united than ever."
Anna Wrzesinska, chairperson of the Local Assembly Planning Committee (LAPC), from the Evangelical Church of the Augsburg Confession in Poland noted that while there were many different challenges in the preparations over the last four years, it felt special to finally get to the opening of Assembly. 
Wrzesinsak invited Assembly participants to "encourage, share and learn from each other," and to be supportive of one another in the coming days.