Stewards committed to sharing their leadership gifts at the Assembly
The stewardship program is a long-standing part of LWF Assemblies. Stewards offer their skills to help support the Assembly and to expand their knowledge of the LWF. This year the participation of these young leaders from across the Communion and their preparations will be unique thanks to the use of technology.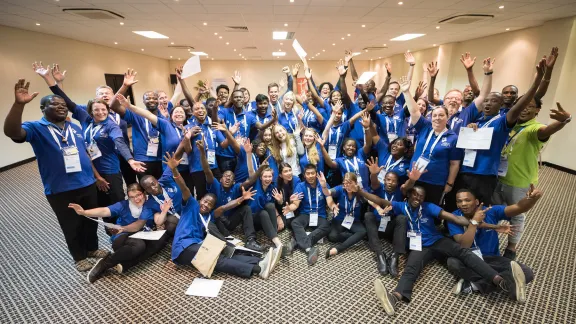 Intergenerational equity at the highest decision-making body of the LWF
(LWI) - "Stewards are already leaders in member churches and communities across the Communion," says Savanna Sullivan, LWF Program Executive for Youth. "They are youth taking the Lutheran World Federation (LWF) into the future and they embody the LWF values of inclusion and respect for diversity by bringing more intergenerational equity to the leadership of the Assembly"
Twenty-six stewards from the seven LWF regions will provide a wide array of support for Assembly functions. They will exercise their skills and share their gifts as young leaders supporting logistics, governance, and worship.
"The program will provide a space for growth, leadership development and increased understanding of the LWF at its highest decision and policy-making body, the Assembly" says Ms. Sullivan. "Stewards are called upon to perform various tasks that make deliberation, decision-making and worshipping at the Assembly possible. However, in the life of the Church, stewardship goes beyond the performance of technical, administrative, or logistical tasks. It is a spiritual practice that is based on an understanding of the goodness of God's gifts and a desire to share those gifts for the flourishing of all God's creation."
Using technology for effective preparations and story telling
The stewards met for the first time in February to begin preparations and discern priorities. The meeting was held online where stewards joined remotely from each of their regional locations.
"We are really utilizing technology in new ways. The stewards will be meeting monthly before the Assembly to begin to build relationships, discuss their role in the Assembly, and begin discerning future priorities of the LWF." Savanna says. "We hope this extra time together will result in strong group cohesion and trust. Our goal is to be prepared, flexible, and effective leaders at the Assembly. We will also be using social media to invite the Stewards to tell their own stories about what it means to be Lutheran, to be a Steward, and to be a young leader in their own contexts."
Regular updates can be seen by following @LWFYouth on Instagram and Facebook.
LWF/T. Rakoto