LWF Council looks back on journey from Windhoek to Kraków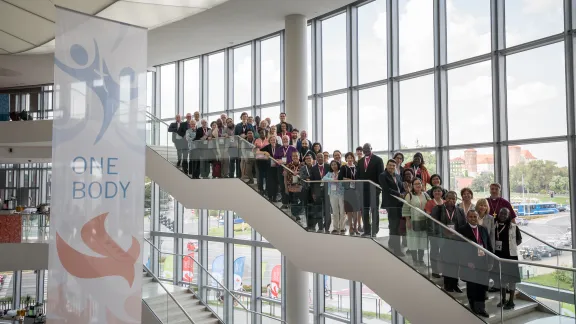 President and General Secretary thank outgoing Council members for their dedication during difficult COVID times 
(LWI) - The Lutheran World Federation (LWF) outgoing Council met for the last time on 12 September, ahead of the opening of the Thirteenth Assembly in Kraków, Poland, on the following day. 
LWF President Dr Panti Filibus Musa thanked Council members for their "sacrifices, commitment and dedication" over the past six years since their election at the Twelfth Assembly in Namibia in 2017. "It has been a wonderful but challenging journey," he said, "especially during the COVID-19 pandemic, but I am grateful for God's grace that has enabled us to carry out our responsibilities on behalf of the global communion of churches." 
On Saturday, 16 September, the Assembly will proceed with the election of a new LWF president and Council, drawing on a list of nominations from the communion's 150 member churches. 
For one week, the center of Lutheranism will be here in Poland." 

– Rev. Dr Anne Burghardt, LWF General Secretary 
General Secretary Rev. Dr Anne Burghardt also expressed gratitude to the Council members, noting their willingness to find new ways of staying "connected and committed" to the work of the LWF. She urged them to remain closely connected to the LWF, serving as "ambassadors" by sharing the work of the global communion with local churches and partners, as well as within wider society. 
Burghardt gave an update on the practical preparations for welcoming delegates and guests to the Krakow Assembly, which begins with opening worship on Wednesday morning. She noted the significance of this global gathering for the local Evangelical Church of the Augsburg Confession in Poland, a country with a predominantly Catholic population. Highlighting the fact that the Assembly's opening worship will be streamed live on Polish national television, she said: "For one week, the center of Lutheranism will be here in Poland."