Poland: Local LWF Assembly planning is progressing well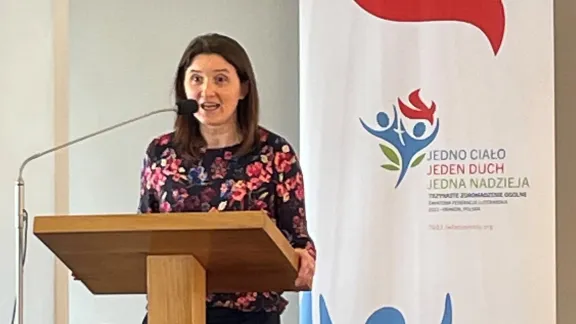 Local congregations are looking forward to receiving Assembly delegates
(LWI) – "We are preparing several study visits, encouraging guests to visit Poland and get to know our church in the wake of the LWF Assembly," said Anna Wrzesińska, Chairperson of the Local Assembly Planning Committee (LAPC). She spoke during the synod meeting of the Evangelical Church of the Augsburg Confession in Poland (ECACP), which took place from 22 to 24 April, giving an update on the preparations for the Thirteenth Assembly of The Lutheran World Federation (LWF).
Wrzesińska expressed her gratitude to everyone involved in the planning and preparations by the host church for the Assembly. They are taking place "in a difficult time", but preparations are progressing steadily in a "dynamic situation".
In addition to the preparations for the significant LWF gathering, the ECACP has received thousands of people fleeing Ukraine. The COVID-19 pandemic has also caused disruptions in the life of the church and society and made in-person meetings difficult.
During the first phase of its work, the LAPC has selected people to engage in specific committees at the local level. They contribute to organizing the Women's Pre-Assembly, the Youth Pre-Assembly, and worship during the Assembly.
The committee has also worked on shaping the local program for the Assembly. The LAPC aims to promote the LWF and the Assembly in the ECACP and its congregations. "We have asked parishes of the Dioceses of Cieszyn and Katowice to receive delegates of the Assembly for the Sunday service," Wrzesińska said. The response had been "very positive". Services are also planned in Lutheran parishes in Slovakia and the Czech Republic.
"We also intend to make it possible for interested people from our church to participate in the Assembly, both individuals and parish groups," Wrzesińska said. "Similarly, we are preparing four study visits, encouraging guests to come to Poland and get to know our church."
In his report to the synod, ECACP Presiding Bishop Jerzy Samiec commended the preparations for the Assembly, also mentioning numerous visits by LWF committees and representatives.
LWF Council member for the region Central and Eastern Europe, Dr. Jerzy Sojka, introduced the Assembly theme "One Body, One Spirit, One Hope". He encouraged the delegates to the synod to read the LWF's publication which is also available in Polish.
By LWF/A. Weyermüller