LWF calls for communicators for Krakow assembly
LWF is looking for experienced communicators to support the global communication team at the LWF assembly in Krakow, and to share the life of the assembly with LWF member churches and partner organizations. Deadline 10 May 2023.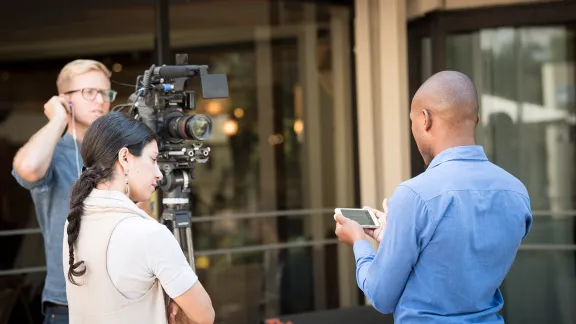 A global team sharing the Thirteenth Assembly worldwide
(LWI) - The Lutheran World Federation (LWF) is inviting communicators from member churches and partners to join the global communication team at the Thirteenth Assembly of the LWF in Krakow, Poland, from 13-19 September 2023.
"Share the life of the assembly"
Under the theme "One Body, One Spirit, One Hope" the Thirteenth Assembly will bring together representatives of the LWF member churches, partners, and guests to worship, reflect and learn, as well as set directions for the work of the communion in the years to come.
"We want to share the life of the assembly with our members all over the world", said Rev. Arni Danielsson, LWF's Head of Communication. "Therefore, we are looking forward to work with experienced writers, videographers, media, and social media experts from around the globe, both in-person and remotely," The Office for Communications (OC) is putting together a global team with members from the LWF's seven regions to help share the life and work of the Assembly with the wider communion, as well as with news media worldwide.
Communicators interested in joining the LWF's team are expected to be skilled and experienced in news writing, media relations, website management, editing, photography, videography, or social media work. A working knowledge of English is required and language skills in French, German, or Spanish are a plus.
Social media experts welcome
Communicators from all regions, women, men and youth, are encouraged to apply. As social media will be an integral part of the communications work, applications from community managers and social media experts are encouraged.
If shortlisted, applicants will need an endorsement or recommendation from their church or partner organization. LWF will cover food and accommodation for the seconded communicators. Communicators from low-income countries may apply for travel subsidies. Co-opted staff are expected to support the communications team in a full-time capacity.
Online meetings from May through August will be used to prepare the communications team for the work at the Assembly.
Deadline for applications: 10 May 2023
For questions, please contact Rev. Arni Danielsson: [email protected]
LWF/Office for Communications