Different cultures, under one theme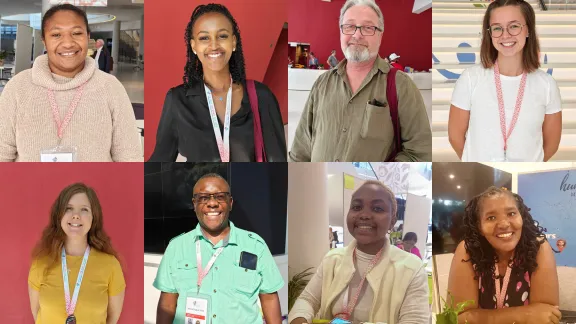 Impressions from Assembly participants arriving in Kraków
Gregnan Maiye Kua is a youth delegate from the Evangelical Lutheran Church of Papua New Guinea 
Despite a 16-hour flight from Papua New Guinea, Kua is excited to be in Kraków supporting her church as a youth delegate of the Thirteenth LWF Assembly. "I'm privileged to be here to meet people from different cultures and learn about their inspirational stories." 
When asked about the Assembly theme, she described the inflation, increasing population, depletion of resources, and economic crisis under which her country is reeling. "Every day is a struggle for many people. In this context, 'One Body, One Spirit, One Hope' means that we are together in this and we as the body of Christ can support and pray for each other." 
Phiona Uwase: Lutheran Church of Rwanda 
Uwase arrived in Kraków after attending the four-day LWF Youth Pre-Assembly which concluded on 11 September in Wisla Malinka, Poland. She describes the youth gathering as a wonderful experience, having met people from different nationalities. "The theme is what brings us together, that connects us—even though we come from different and diverse cultures."  
She adds: "In one way or the other, all of us are struggling in some way and we are hoping to find solutions and to overcome those challenges. I am looking forward to listening to reflections on the theme." 
Bishop Semko Koroza: Evangelical Reformed Church of Poland  
As an ecumenical guest, Bishop Semko Koroza is attending the LWF Thirteenth Assembly to observe. He believes the theme is very interesting and the pre-assemblies for youth, women and men have been "an excellent way" to enable them to celebrate and worship. On the assembly theme, he emphasized "the need to care for our planet and take the necessary steps to nurture and build harmony. " 
Elizabeth Johnson: Evangelical Lutheran Church in America   
Interested in child theology and how children are treated in churches worldwide, Elizabeth Johnson is attending the assembly as a visitor. Johnson is currently studying theology at the University of Chicago, to be ordained thereafter. She is delighted to be able to participate in the LWF Assembly and learn about the work of Lutheran churches worldwide. "Although there is little difference in terms of spirit, our social and political context is so different. We do share common practices of faith but there are intricacies between them, and I am eager to see how this affects young people and if it would motivate them to be responsible and make an impact in church.  
As far as the theme is concerned, Johnson is mostly interested in the subject of hope. "The hope I have is different from what a seminarian would have in another country. So, what we hope for depends on our context."  
Annika Juurikka: Evangelical Lutheran Church of Finland   
"Amid our human-made divisions, differences, and polarization, owing to which public discourse has been harsh, we can focus on one thing that can bring us together and unite us," Juurikka says.  
Juurikka participated in the Youth Pre-Assembly "that was brimming with ideas and what to accomplish."  
Bishop Sageus Keib: Evangelical Lutheran Church of the Republic of Namibia  
A tiring two-day journey to reach Kraków did little to dampen the enthusiasm of Bishop Keib. He is very excited and is looking forward to what is on offer here at the Assembly for the large group of Lutherans – assembled in one place.   
"The theme shows respect to the body of Christ as we resemble the body of Christ. Our outlook and approaches may differ but when we gather as Lutherans, we can set the direction that we should follow." 
Keib is eager to engage in discussions concerning what is happening in the world and to find solutions to them, particularly in terms of climate change and justice, as it is a common cause for the global village. 
Rutendo Gora: Northeastern Evangelical Lutheran Church in South Africa    
"This Thirteenth LWF Assembly is educational and mindset changing. So, I urge everyone who has attended to be ready to learn so that he/she can share what he/she has got to others in their home churches," says Rutendo Gora from South Africa.
Rev. Witness Maratu: Evangelical Lutheran Church in Tanzania  
For Rev. Witness Maratu the theme of the Assembly means a lot. She also expects to see participants discuss it in detail, plus the real existing matters such as theology, identity and unity. Issues of discussion within the Assembly should be put into practice by the participants so as to continue building the Lutheran church around the world, she adds. "I call upon Lutherans globally to take seriously the Thirteenth Assembly theme and work together to see it bearing fruits of unity for the next generations."