Crafts tell the story of church ministries in East and Central Africa
Assembly Jarmark offers an opportunity for the Lutheran Communion in Central and Eastern Africa to share how the ministries of churches in the region serve the community.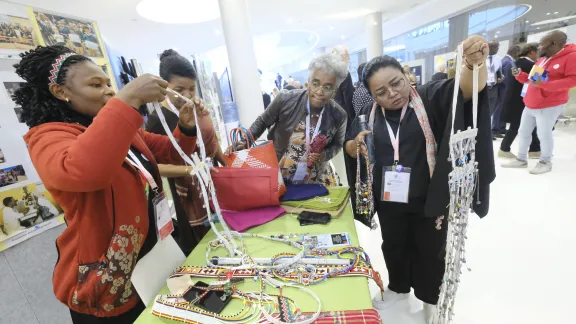 Jarmark helps showcase handcrafts and offers opportunity to share about LUCCEA's work 
"Jarmark has given us a chance to showcase our handcrafts which are made by our church congregations in Central Eastern Africa," says LoeRose Mbise, secretary of the Lutheran Communion in Central Eastern Africa (LUCCEA). 
Mbise highlighted the importance of Jarmark, the Polish word for a fair, where churches in the regional bloc showcase how their diverse ministries serve the community spiritually and physically. "Through [Jarmark] we will help people to know our culture and strengthen relationships with each other," she said. The LUCCEA exhibition is one of the nearly 30 exhibits at The Lutheran World Federation (LWF) Thirteenth Assembly taking place in Kraków, Poland.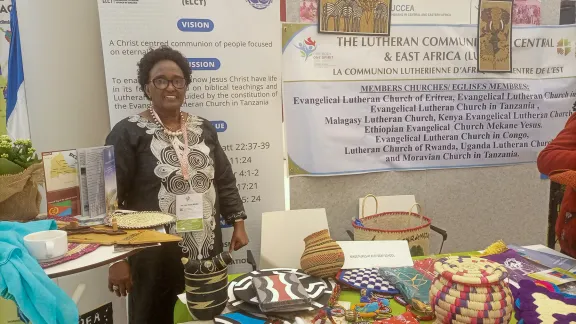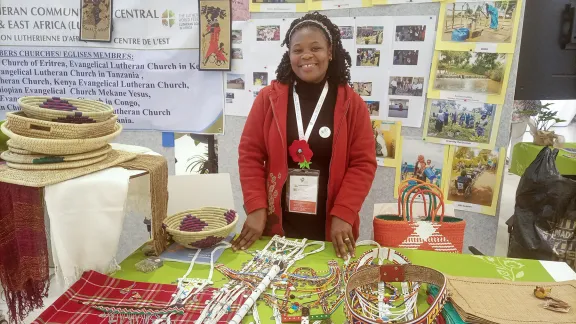 Crafts displayed at the stand include locally made beads, belts, crosses, wooden crafts and more. "Jarmark is [also] an opportunity for women from member churches to demonstrate their crafts to the Assembly participants," added Rev. Catherine Prisca Hedy from the Kenya Evangelical Lutheran Church (KELC).  
LUCCEA is one of three bodies that group Lutheran churches in Africa, including non-LWF members, to facilitate collaboration at the regional level and with the LWF. One of its goals is to connect youth and women.  
The sub-regional bloc runs programs on topics such as HIV and AIDS awareness, capacity building and leadership skills to strengthen its work of improving the lives of people in need among the member churches and the communities they serve. 
LUCCEA comprises churches in Burundi, Democratic Republic of Congo, Eritrea, Ethiopia, Kenya, Rwanda and Tanzania. 
Jarmark: A platform for dialogue and sharing stories 
Jarmark – a Polish word for a fair – is a place to wonder and wander about, to meet others and to discover some of the many aspects that shape the global communion of Lutheran churches. Member churches, related organizations and ecumenical partners, as well as LWF country programs are presenting their work and offering opportunities to learn from each other.