LWF calls for stewards to Thirteenth Assembly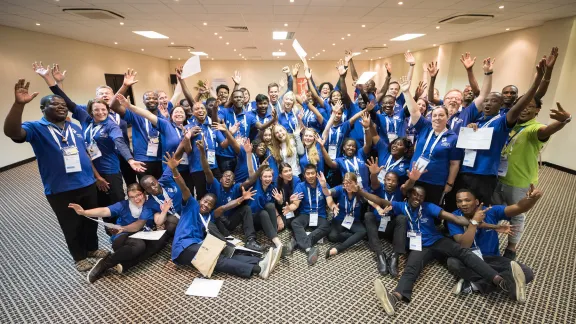 Young people 18-30 invited to apply, deadline is 30 September  
Applications are open for the Stewards Program of The Lutheran World Federation (LWF) Thirteenth Assembly in September 2023. 
Through the program led by LWF Youth, young people (18-30 years) from LWF's member churches are invited to submit applications to serve as stewards at the Assembly in Krakow, Poland. The deadline for applications is 30 September 2022. 
The program has three objectives. It aims to provide hands-on leadership development and participation at the Youth Pre-Assembly; enhance young people's participation and contribution to the life of the LWF and its member churches; and support the smooth running of the Assembly by performing assigned tasks. 
In a letter inviting leaders of LWF's member churches to identify qualified youth and share the open call, Ms Eva Christina Nilsson, director of the Department for Theology, Mission and Justice affirmed the critical role of stewards and by extension youth in the Lutheran communion.  "Stewards are current leaders in their churches and communities, and they are leaders taking the LWF into the future," she noted. 
The call for applications specifies that stewards at an LWF assembly are assigned various tasks that make it possible for deliberation, decision-making and worshipping at the Assembly to take place. However, beyond such performance, "stewardship is a principle that is based on an understanding of the goodness of all God's gifts and a desire to use them to the best of a person's own ability," the letter stated. 
Applicants to the program are required to have experience in youth work in the LWF member church to which they belong at national level, be knowledgeable about LWF's work with young people, and be active in their local or regional youth networks. 
The personal attributes required of a steward include initiative and readiness to be proactive within a team, communication skills in a cross-cultural context, patience to take on the work assigned and value it, as well as readiness to provide solutions to problems that may arise.  
The Assembly Stewards Program itself will last from 7-20 September and will include participation in the 8-11 September Youth Pre-Assembly in Wisla Malinka, Poland. In the months leading up to the Pre-Assembly, there will be three online preparation meetings. 
As with similar open calls for participation in LWF's activities, applicants must submit an endorsement letter signed by the head of the respective member church. The application form can be found here: LWF Stewards Online Application Form. 
For more information, please follow @LWFYouth on Facebook and Instagram or email Savanna Sullivan, LWF Program Executive for Youth at [email protected]