Youth-led space hosts events, provides meeting point
Youth representation in the LWF plays an essential role of leadership, especially during an Assembly.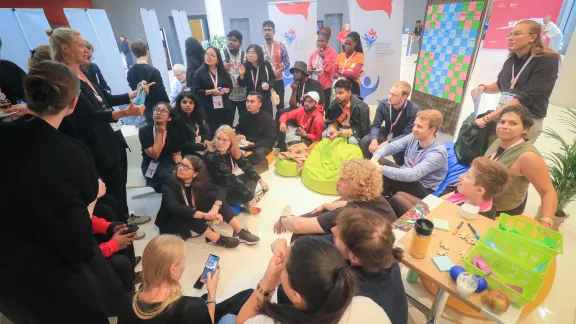 Youth Encounter provides safe space at Assembly to come together for support, conversation, prayer and meditation
"This place has been a safe place for youth to brainstorm, gather information, learn from each other and indeed support each other in different things that matter to youth currently," said Caroline Huth, Jarmark presenter from United Evangelical Lutheran Church, Argentina.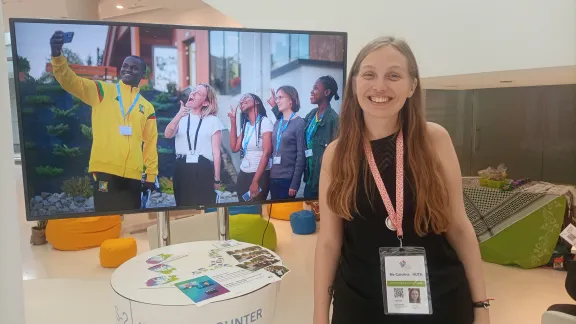 Huth is referring to Youth Encounter, identified as a "dedicated safe space and meeting point for youth to organize themselves, to relax, to build relationships, and to plan and connect on key issues over the course of the Assembly," according to the Jarmark booklet. It is one of the nearly 30 exhibits at The Lutheran World Federation (LWF) Thirteenth Assembly taking place in Kraków, Poland.
At the youth-led space, young people are discussing issues such as advocacy for peace making, climate change, conflict resolution and gender justice. It also provides a platform for youth to share their gifts and skills with one other.
"Youth do many activities in the church," said Maro Maua, a volunteer at the youth department of the Kenya Evangelical Lutheran Church, who noted he would like to see more youth involved and included in decision making. The LWF currently has a commitment to ensure 20 percent participation in its assemblies.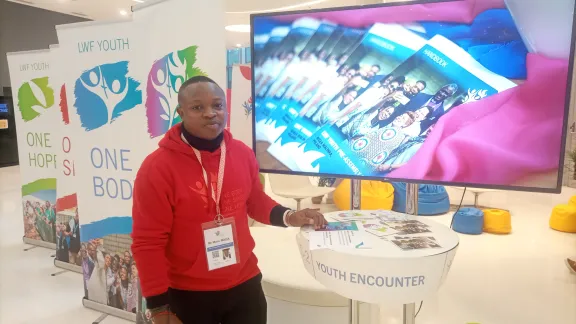 Throughout the Assembly, the Youth Encounter will also host events for young people and other participants, meet daily with stewards, offer prayer and meditation sessions, and welcome all people into intergenerational dialogues.
Jarmark – a Polish word for a fair – is a place to wonder and wander about, to meet others and to discover some of the many aspects that shape the global communion of Lutheran churches. Member churches, related organizations and ecumenical partners, as well as LWF country programs are presenting their work and offering opportunities to learn from each other.