19 SEP 2023
LWF Assembly elects 48 members of its governing body  
The Lutheran World Federation (LWF) Thirteenth Assembly elected members of the new LWF Council at its meeting in the Kraków, Poland. The 48-member annual governing body comprises representatives from the communion's member churches around the world.  
The nominees represent churches from the seven LWF regions. Ten each come from Africa and Asia. Central Eastern Europe is represented by five people and Central Western Europe by eight people. The Nordic countries have six representatives, and Latin America and the Caribbean has four, while North America is represented by five individuals.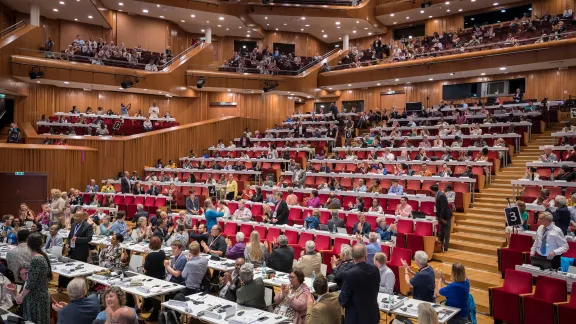 Half the total number of the new Council members are women and 13 are youth delegates, in compliance with the LWF's policy of gender and generational inclusion, of 40 percent each for women and men, and 20 percent for youth at governing bodies.  
On Saturday Danish Bishop Henrik Stubkjær was elected as the new President of the LWF to guide the global communion of churches over the coming years. Stubkjær will be formally installed, alongside members of the new Council, during the Assembly's closing worship on Tuesday afternoon. The first meeting of the new Council under his leadership will take place the following day, 20 September.  
The LWF Council meets annually. It is responsible for supporting the strategic direction of the LWF, including approval of budgets, and receiving reports, among other duties described in the constitution of the LWF.  
During its first meeting the Council will appoint the Executive Committee, which includes the seven regional Vice-Presidents and chairperson of the respective Council Committees. According to the LWF Constitution, the Council is made up of 48 persons and the president, all elected by the Assembly. Should the chairperson of the Finance Committee be elected from outside the 48 members, the total number of Council members rises to 50. 
List of elected LWF Council members
AFRICA
ADA EPSE MAINA, Rev. Dr Jeanette, Evangelical Lutheran Church in CAMEROON  
MOMOH, Mr Moses Sanganwo, Evangelical Lutheran Church in SIERRA LEONE  
NUHU, Mr Ishaya, The Lutheran Church of Christ in NIGERIA  
DIBISA, Rev. Dr Yonas Yigezu, The ETHIOPIAN Evangelical Lutheran Church Mekane Yesus  
MANANATO, Ms Toromare, MALAGASY Lutheran Church  
SHOO, Presiding Bishop, Fredrick Onael, Evangelical Lutheran Church in TANZANIA  
UWASE, Ms Phiona, Lutheran Church of RWANDA  
HANEKOM, Mr Petrus Johannes, Northeastern Evangelical Lutheran Church in SOUTH AFRICA  
MATROOS, Ms Susan, Evangelical Lutheran Church in SOUTHERN AFRICA
NDAWANAPO, Bishop Tomás, Evangelical Lutheran Church of ANGOLA
ASIA
CHANG, Bishop Chun Wa, The Evangelical Lutheran Church of HONG KONG  
LIN, Ms Mei-Ting (Terry), The Lutheran Church of Taiwan  
HOMMA, Ms Ibuki, JAPAN Evangelical Lutheran Church  
BALASINGH, Bishop Jacob Priestly, INDIA Evangelical Lutheran Church  
BORGOARY, Ms Ranjita Christi, Northern Evangelical Lutheran Church (INDIA)   
RACHEL SOREN, Ms Rinki, NEPAL Evangelical Lutheran Church  
GABEE, Ms Agnes, Evangelical Lutheran Church of PAPUA NEW GUINEA  
LAWRENCE, Bishop Steven, Evangelical Lutheran Church in MALAYSIA  
SINAGA, Rev. Dr Deonal, Protestant Christian Batak Church (INDONESIA)  
TELAUMBANUA, Rev. Mesrawati, The Protestant Christian Church (INDONESIA)
CENTRAL EASTERN EUROPE
FABINY, Bishop Dr Tamás, The Evangelical Lutheran Church in HUNGARY  
JAVORNIK, Mr Martin Jan, Slovak Evangelical Church of Augsburg Confession in SERBIA  
NAVRÁTILOVÁ, Rev. Dr Olga, Evangelical Church of CZECH Brethren  
POŠKIENĖ, Ms Milita, The Evangelical Lutheran Church of LITHUANIA  
SOJKA, Prof. Dr Jerzy, Evangelical Church of the Augsburg Confession in POLAND 
CENTRAL WESTERN EUROPE
DANTINE, Superintendent Olivier, Evangelical Church of the Augsburg Confession in AUSTRIA  
GÖTZ, Mr Tim, Evangelical Lutheran Church in Bavaria (GERMANY)  
HORN, Ms Charlotte, Evangelical Lutheran Church in Württemberg (GERMANY)  
KRAUSS, Dr Anna Hildegard, Lutheran Church in GREAT BRITAIN  
KÜHNBAUM-SCHMIDT, Bishop Kristina, Evangelical Lutheran Church in Northern GERMANY  
MARTIN, Oberkirchenrat Michael, Evangelical Lutheran Church in Bavaria (GERMANY)   
STELTER, Oberkirchenrat Dirk, Evangelical Lutheran Church of Hanover (GERMANY)  
WESTFELD, Ms Bettina, Evangelical Lutheran of Saxony (GERMANY)  
EUROPE – NORDIC COUNTRIES 
GUĐMUNDSDÓTTIR, Rev. Dr Arnfríður, Evangelical Lutheran Church of ICELAND  
LUOMA, Rev. Jussi, Evangelical Lutheran Church of FINLAND  
PÅLSSON, Rev. Veronica, Church of SWEDEN  
SAMNØEN, Mr Øystein, The Evangelical Lutheran Free Church of NORWAY  
SANDMÆL, The Very Rev. Kristine, Church of NORWAY  
LODBERG, Prof. Dr Peter, Evangelical Lutheran Church in DENMARK  
LATIN AMERICA & THE CARIBBEAN
HERNÁNDEZ MIRANDA, Bishop Atahualpa, Evangelical Lutheran Church of COLOMBIA  
RAM, Mr Michael, Evangelical Lutheran Church in GUYANA  
REIMANN GNAS, Ms Isabella, Evangelical Church of the Lutheran Confession in BRAZIL  
ROMMEL, Rev. Wilma Elisabet, United Evangelical Lutheran Church (ARGENTINA and Uruguay)  
NORTH AMERICA
FLIPPIN JR, Rev. William Edward, Evangelical Lutheran Church in AMERICA  
GOHM, Rev. Katherine Maria, Evangelical Lutheran Church in CANADA  
ISLAM, Ms Khadijah, Evangelical Lutheran Church in AMERICA  
ORTIZ, Bishop Leila, Evangelical Lutheran Church in AMERICA  
WENDEL, Mr Brad, Evangelical Lutheran Church in AMERICA