Former Swedish archbishop leads third thematic reflection at Krakow Assembly on 'One Body, One Spirit, One Hope' 
(LWI) - In a world afflicted by 'polycrisis' – multiple, interconnected, global crises – Christians are "called to cultivate a spirituality of resilience, co-existence and hope," not relying on "an optimistic view of reality," but learning how to "spot the promise" of Resurrection amid violence, suffering and death.  
Speaking on the penultimate day of The Lutheran World Federation (LWF) Thirteenth Assembly in Krakow, Poland, Rev. Dr Antje Jackelén, former Archbishop of the Church of Sweden, reflected on the differences between optimism and hope." She was addressing delegates from countries across the globe, gathered for the 13 to 19 September Assembly focused on the theme of 'One Body, One Spirit, One Hope'.  
The Archbishop Emerita and outgoing LWF Vice President for the Nordic region, began by quoting the cry of Greta Thunberg, the young Swedish climate activist who told world leaders: "I don't want you to have hope. I want you to panic!" Though "panicking in despair is not an option" for Christians, Jackelén noted that the first disciples also "panicked and despaired when Jesus died on the cross," hiding behind locked doors in fear until the Holy Spirit turned them from despair "into apostles of hope."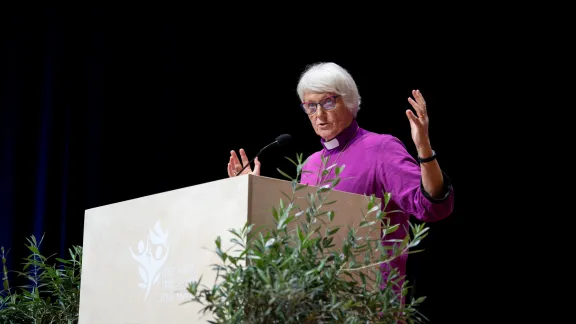 Hope requires making the leap of faith and love, with the abyss opening before our feet. 

Rev. Dr Antje Jackelén, former Archbishop of the Church of Sweden. 
Panic has a role to play, Jackelén continued, if it alerts us to the choices we must make "without guarantees for the outcome." In extreme situations, she said, "hope requires exactly this: with the abyss opening before our feet, making the leap of faith and love." This is necessary more than ever today, she insisted, "when a lack of hope comes together with a surplus of fear," meaning that "we are in real danger – as individuals, as a communion of churches, as humanity." 
The Swedish church leader went on to explore the distinction between optimism – which uses statistics to extrapolate current trends – and hope – which is "the practice of spotting the promise." Optimism "builds on the known," while "hope is motivated by the promise of the realm of God that breaks into and takes shape in our reality." Rather than being a utopia (literally 'no place'), hope is to be found "in the messy middle of things," reflecting God's incarnation into our world of human frailty and uncertainty. 
Prophetic, diaconal, ethical, theological 
Hope is both resistant, yet vulnerable, Jackelén said, noting that "we need to cultivate our own hope if we are to foster hope among other people." Like the security instructions on an aircraft, she added, "put on your own oxygen mask before helping others. Make sure you inhale what the Holy Spirit offers you and you will be a blessing to others." In its ministry of hope in the public space, she insisted, "the church needs to be prophetic, diaconal, ethical and theological." 
Questioning what it means to affirm 'One Hope', she said Christian hope is never just "for Christians alone." Rather, it is "hope for the world," embodied in "the cross of Christ [which] stands at the center of the universe, his outstretched arms embracing the whole of creation." This hope consists of "anger at the forces that contradict the true the good and the beautiful," as well as humility and courage "to act wisely and boldly." As people of faith, Jackelén concluded, "we can always choose to be on the side of courage, impatient in hope." 
Hopes for a just peace in Ukraine 
Responding to the Swedish church leader's words, Bishop Pavlo Shvarts of the Evangelical Lutheran Church of Ukraine spoke of the meaning of hope in his context, as "the gift of God that gives us the strength to live; it lifts our hands for battle against the injustice of this world and for service to those in need." 
Even amid the war and destruction caused by the Russian attacks on Ukrainian towns and cities, he said, "we hope for peace and revival of our country. We hope for the future of our children, even if they must study with air-raid sirens and in bomb shelters. We hope to be freed from fear and trauma. We hope for victory over hatred and for forgiveness. And of course, we hope for a just peace and an encounter with God." 
Over past centuries, Bishop Shvarts reflected, the church has been forced to seek answers to questions about life in times of crisis. In the Middle Ages, some preached "the horrors of hell to instill panic in their listeners," just as some today have become "new prophets of the apocalypse," using digital technology to spread fear and despair. Without hope, he warned, "fear turns into hatred and aggression," 
Hope lives in the land 
Also responding to the archbishop was Katarina Kuhnert, a young climate change scientist from the Evangelical Lutheran Church in Canada. She began by noting that she lives on Indigenous lands, north of the Arctic Circle, in a region designated a global hotspot for climate change where "panic feels like a daily experience."   
She pointed to the "many extractive structures that aim to weaponize the word of God, strip resources from the Earth to the point of environmental collapse, exploit our neighbors and divorce ourselves from our own minds and bodies." We turn "the vitalities of our relationships, from the divine to the internal, into a resource that always seems to be running out and it leaves us spiritually impoverished," she said. 
If the Reformation was "a critique of economic exploitation through spiritual extractivism," Kuhnert said, "then we maintain the roots of our Lutheran faith now by clearly criticizing the imperial powers of our times." The world is hungry for moral and spiritual leadership, she insisted. "If we want to have a role in that leadership, then our actions must match our theology with integrity." Hope lives in the land, she concluded, adding that "hope is not a resource that risks running out."